Springs Ambassadors Camp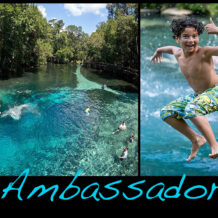 Lesley Gamble, Springs Eternal Project
June 12 – 17, 2016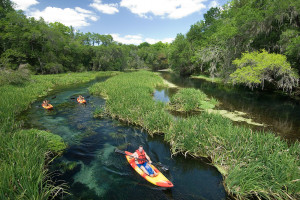 Come join us this summer as a group of 16 middle school students set out explore the real magic of Florida: our magnificent blue water springs.
Florida is home to the largest concentration of freshwater springs in the world. While many Floridians consider the faucet or plastic bottle the source of their drinking water, our campers will discover otherwise.  For six days we'll be swimming and snorkeling in it, kayaking on it, and camping above it, conducting science experiments, writing, and making art with leading springs and aquifer experts.
Campers will have opportunities to explore environmental journalism with award-winning author Cynthia Barnett, drawing with internationally renowned springs artist Margaret Ross Tolbert, and photography with acclaimed nature photographer John Moran and Kristen Grace of the Florida Museum of Natural History. We'll investigate the aquifer with biologist, diver and National Geographic Young Explorer Jenny Adler, build a model aquifer and examine fossils with artist and museum fabricator Karen Chadwick, and learn how to assess the health of a spring by conducting daily science experiments with our Field Director, Tom Morris.  A veteran biologist, cave diver and springs researcher, Tom is perhaps best known as one of the "stars" of the PBS series, Water's Journey.
We'll be kayaking the spring-fed Santa Fe River with author and Master Naturalist Lars Andersen, going "spring hopping" to local area springs, and investigating connections between healthy springs and sustainable food with Anna Prizzia and Val Leitner of Forage Farm, who will prepare locally sourced meals each day.  Click here for faculty and staff biographies.
Objectives:
Science, writing and art-making are forms of research, expression, communication and discovery. Our goals are for participants to enjoy nature and develop outdoor skills; cultivate their natural curiosity and creativity to make a personal connection with Florida's springs; and to investigate, from multiple perspectives, how human and natural worlds are vitally interdependent.  This means beginning to explore how the health of Florida's springs and aquifer are directly related to the ways in which we define and use land, water and energy, choices that reflect how we imagine and experience ourselves in relationship to natural systems, our communities, and each other.

Springs Ambassadors:
Engaging with artists, writers and researchers, campers will be exposed to potential areas of study and future career possibilities in the sciences and humanities. Our hope is that campers will take what they learn and experience back home with them, share it with friends, families and peers, and build on it throughout their lives, becoming "Ambassadors" for Florida's springs.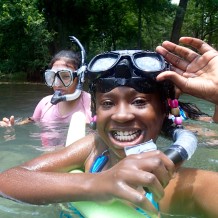 To this end, video is a powerful medium. Environmental filmmaker Eric Flagg (Director of Gimme Green, Ichetucknee Dreaming, Following the Ichetucknee) will spend the entire week in camp, cameras in hand, documenting activities and impact on campers.
Our intention is to help participants retain what they've learned, to give them media to share as peer educators, and to expand our educational outreach, offering an opportunity for those who can't attend the camp to learn more about our springs. The documentary videos will be made available on our website SpringsEternalProject.org (free to download) and will also travel with the Springs Eternal: Florida's Fragile Fountains of Youth exhibition currently traveling the state.
We've named the camp after the Springs Ambassadors program initiated in 2002 by Jim Stevenson, retired chief biologist for the Florida Park Service and chair of the Florida Springs Task Force. Jim's program was designed to educate adults about impacts on their local springs so they could talk with their neighbors about conservation and stewardship. Our camp honors Jim's work and builds on his idea of a "neighborly" education, one that emerges from a deep love for nature and our local place as shared.
So, kids, what does this camp really look like?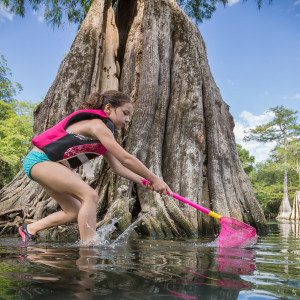 We'll be swimming, snorkeling, kayaking and generally playing around in the water with people who love, study and champion Florida's springs. If you don't know how to do any of these activities, we'll teach you.
Investigate drawing, testing water quality, examining fossils, observing and learning about critters and plants, and taking pictures both in and out of the water. All to explore the magic and the mysteries of our springs and aquifer, and to discover how they work.
We'll experiment with writing from the perspective of journalists and artists, and begin to make connections between what we do in our everyday lives and the conditions we find in our springs.  We'll eat delicious food grown locally and ask: "What are the relationships between the food we eat, the land it was grown on, the springs we swim in and the water we drink?" We'll work on camping and nature survival skills, too, or develop some if you haven't camped before.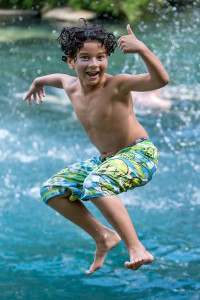 Our hope is that you'll leave knowing a lot more about our springs and aquifer: why they're so important; how they work to support plant, animal and human ecosystems; what factors contribute to their health, beauty and diversity of life; and how our daily choices impact them, even if we live far from a spring.
You'll accumulate memories and skills, stories to tell, a pile of stinky clothes and 15 new friends, not counting all the turtles, fish and other aquatic creatures you might fall in love with. We hope you'll share your stories, photos and drawings, if not the grungy clothes, with your families, friends and community.
Most of all, we hope you'll visit the springs again and again, bring someone who's never seen them, and keep asking questions. Initiate your own springs projects! You can be an explorer, guide, and guardian of Florida's fantastic springs.
DETAILS
The 2016 Springs Ambassadors Camp is a pilot program, so we've limited it to a group of 16 campers over six consecutive days.
STAFF: Safety is our primary concern. Staff includes Camp Producer Lesley Gamble of the Springs Eternal Project, Camp Director Katie McDonald, Field Director Tom Morris, Associate Field Director Natalie Lyons, Food Director Val Leitner and four counselors, in addition to the teachers listed above. The counselor to camper ratio is 1 to 4 and counselors will be certified lifeguards.  Click here for faculty and staff biographies.
AGES: Completed 6th grade to completed 8th grade.
WHERE: Blue Springs Park, a family-oriented park in High Springs, FL. We'll be camping outdoors in tents for five nights.
We'll also kayak to Ginnie Springs and spend a day "spring hopping" via coach to other local springs.
WHEN: Sunday afternoon– Friday evening, June 12 – 17, 2016.
The camp will end on Friday evening with a cookout at Blue Springs for campers and their families.
TUITION: $600. Includes six days and five nights of tent camping, all food, programs, art and research materials, a kayak trip to Ginnie Springs, and a day of "spring hopping" via coach.
SCHOLARSHIPS: We have a limited number of full scholarships (all tuition paid) and partial scholarships ($300, half tuition) available.
We want this camp to reflect the diversity of our local communities. Scholarships are available if you'd like to attend but can't afford the full tuition.  Please apply if you're passionate to learn about Florida's springs, are willing to engage fully with our springs experts and other campers, and are committed to sharing what you've learned with your peers and community.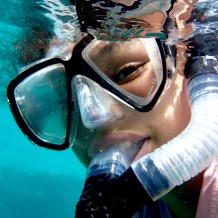 HOW TO APPLY: The camp is limited to 16 campers.  We'll be taking applications through April 22nd, 2016.  Please note that an application does not guarantee a spot in the program. We'll send notifications by May 3rd.  
Submit the APPLICATION FORM below. Be sure to check the box appropriate for you: "Full Tuition" (camper pays $600), "Partial Scholarship" (camper pays $300), or "Full Scholarship" (camper pays $0).  Don't forget to include your Essay (see below) and to apply by Friday, April 22, 2016.
Application Essay: Please write a short essay (1-2 paragraphs) telling us why you'd like to participate in this camp, including what talents, questions and interests you would bring to it.
DUE DATES: Applications (with essay) are due: April 22, 2016.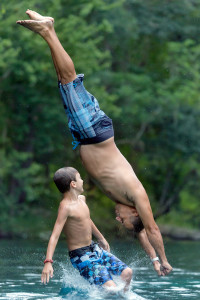 Notifications will be sent by May 3, 2016.
Full Payment for tuition is due May 20, 2016. 
Questions? Assistance?  Contact us!
Lesley Gamble, Camp Producer
email: lgamble@ufl.edu
Phone: (352) 374-4087
Katie McDonald, Camp Director
email: mcdonaldsk@gm.sbac.edu
Phone: (352) 246-9639

 


APPLICATION FORM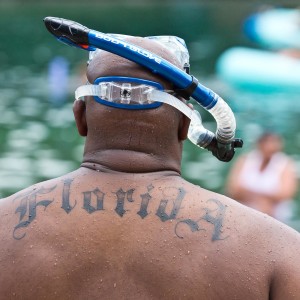 Springs Ambassadors Camp
is a production of the Springs Eternal Project, Alachua Conservation Trust.