The Team: Camp Faculty and Staff 2016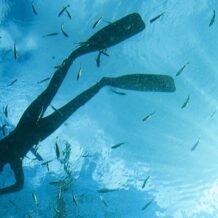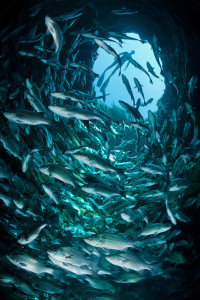 Lesley Gamble, Camp Producer. Lesley was born in the north and has been heading south happily ever since. After a career training horses, she traveled the world working for an antique textile dealer based in Istanbul, researched horned headdresses worn by Afghan women at the turn of the 20th century, became a body worker, a feminist and a free diver (not necessarily in that order), and earned her Ph.D. in Art History from the University of Florida, where she has taught for over twenty-five years. Areas of interest include environmental and social practice art, 1960s and 70s body and performance art, feminism and poststructuralist theory, and relational aesthetics. She teaches Gender and Visual Representation: 1500-1900, 20th Century Feminism and Art, and Art, Water, Ecology.
Gamble is most at home in the pulsing lens of a radiant Florida spring. Her Art, Water, Ecology course takes the rapidly declining conditions of our springs and aquifer as a powerful case study for exploring eco-art practices that focus on regenerative ecology and community resilience. Having a personal code of honor that never asks students to undertake an assignment she has not attempted herself, Gamble created the Springs Eternal Project in partnership with nature photographer John Moran.
As Co-Director, Gamble has developed Urban Aquifer, a mobile public art performance using Regional Transit System buses; the Springs Eternal Project website, a wealth of resources on springs culture, science, art and advocacy; and educational outreach that includes exhibition tours for policy makers, "Take Action: Ten Things We Can do to Save Our Springs" rack cards, exhibition panel and web page; and creative collaborations with other artists and educators. Her underwater springs video, Swimming Through Air, available on Vimeo, debuted with the Gainesville Orchestra as part of their season finale concert, Nature's Eden, and has been viewed in over 130 countries worldwide.
Her experience collaborating with landscape architect Tracy Wyman and students in the White Springs H.O.P.E. Program, a summer session designed to educate rural youth about why their town's spring rarely flows anymore, touched Gamble deeply. The students' willingness to challenge themselves with new information and unexpected experiences, and their irrepressible joy as they learned to snorkel in a flowing Florida spring motivated Gamble to create the Springs Ambassadors Camp for middle school students in 2016.
The goal of the Springs Eternal Project is to inspire Floridians to value, conserve and restore our precious waters. The current degradation of our springs and aquifer is not only a threat to our environmental, social, economic and spiritual quality of life in Florida, it opens onto issues of democracy and survival for a multitude of species, including our own. Regardless of real and perceived differences, we are water, and water connects us all. Let us nurture one another in this vast intelligent life.

Springs Eternal Project: http://springseternalproject.org
Swimming Through Air: http://springseternalproject.org/springs-eternal-project-2/lesley-gamble-swimming-air/
Urban Aquifer: http://springseternalproject.org/urban-aquifer/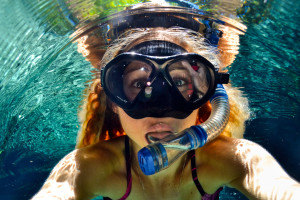 Jenny Adler is a 2016 National Geographic Young Explorer grantee. Her project, called Walking on Water, is focused on teaching the next generation about our fragile freshwater. Her goal is to get more elementary school kids in the springs with cameras in hand and show them where their water comes from and why that matters.
She spent her childhood in a permanently salty state – from exploring tide pools and splashing in the waves to sailing competitively throughout college, the ocean defined her. This love for the sea also led her to pursue a degree in marine biology at Brown University, and when she got her first job offer to work as a biologist at USGS in Gainesville in 2011, she eagerly accepted. Two days later, with visions of sandy beaches and palm trees in her mind, she arrived 1244 miles south . . . and 74 miles inland. She studied the Deepwater Horizon oil spill in the Gulf and dinosaur-like sturgeon fish in the Suwannee River. It was the sweltering summer field days of netting sturgeon in the foreign fresh waters of north Florida that first acquainted her with the springs.
These incredible ecosystems immediately swept her off her feet, and she started exploring, researching and documenting them through photography. To see a little deeper, she eventually earned her cave diving certification and is endlessly fascinated by the winding tunnels of the aquifer. But with this fascination has come concern for these fragile, compromised ecosystems. This ultimately led her to pursue her PhD at the University of Florida where she is currently working on a dissertation that blends science with photography and writing to effectively communicate about Florida's threatened springs and water resources. Her series of Illusions exhibits focused on Florida's springs have been displayed at Santa Fe College in Gainesville, First Magnitude in Gainesville, and the Museum of Science and History in Jacksonville. She was recently a speaker at TEDxJacksonville, where she talked about the power of photography to reconnect Floridians to our fragile freshwater: bit.ly/TEDx_JenniferAdler. http://www.jenniferadlerphotography.com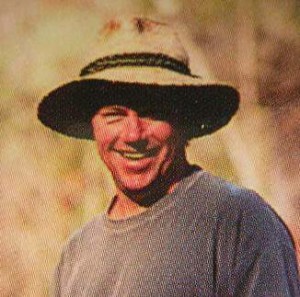 Lars Andersen is in his 19th year as a full-time river guide for Adventure Outpost in High Springs, Florida. Each week he leads 3 – 4 tours on some of the 60+ North Florida waterways on his tour list. In 2003, he became a certified Master Naturalist and on April 5, 2014, was presented with an "Award of Excellence" by the Florida Master Naturalist Program. In January of 2016, he became FMNP's Lead Instructor for the North Central Florida region.
Lars is also a writer and author. In 1988, he wrote and produced an educational audiotape, North Florida Adventure: (Grinnin' Lizard Productions, Dallas, Tx.). In 2001, his book, Paynes Prairie: A History and Guide, was published by Pineapple Press in Sarasota, FL. That 1st edition [hardback] was followed by a 2nd edition [paperback] in 2004, and reprinted again in 2007. His most recent projects were a Paddlers Guide to the Suwannee River Wilderness Trail, (2009) and a Paddlers Guide/Map of the Gilchrist Blueway (2014).

Lars Andersen, Adventure Outpost LLC, 30 NW 1st Ave, High Springs, FL  32643   (386) 454-0611
http://riverguidesjournal.blogspot.com/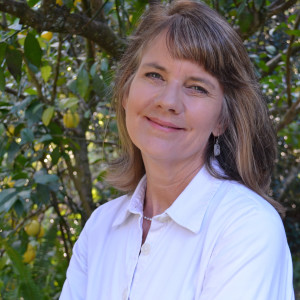 Cynthia Barnett was happiest in childhood when submerged in water – usually at the beach or the pool – and when writing. She knew she wanted to be a journalist since 5th grade, when she lost her position as editor of her Girl Scout troop newspaper after asking many pesky questions about a story the troop leader didn't want written. She went to the University of Florida for her degree in journalism, and later earned her master's in environmental history, which looks at history through land, water and climate rather than leaders, wars and conquests.
She wrote for newspapers and magazines for many years, until water seemed to become part of every story. She decided to
write a book on the strange tale of how water could vanish in one of the wettest places in the United States. That book, Mirage: Florida and the Vanishing Water of the Eastern U.S. won the gold medal for best nonfiction in the Florida Book Awards and was named one of the top 10 books that every Floridian should read. Her second book, Blue Revolution, which is about the idea of a water ethic for America, was named by The Boston Globe as one of the top 10 U.S. science books of 2011. The Globe describes Ms. Barnett's author persona as "part journalist, part mom, part historian, and part optimist." After Blue Revolution, she mustered the courage to quit her day job to work full-time on her books – and water.
Her latest book is Rain: A Natural and Cultural History, nominated for the 2015 National Book Award and the PEN/E.O. Wilson Award for Literary Science Writing. Her work also appears in the New York Times, Los Angeles Times, Wall Street Journal, The Atlantic, Salon, Politico, Discover, Orion, Ensia, the Tampa Bay Times, and other publications.
Cynthia is a fifth-generation Floridian now raising a sixth generation with her husband in Gainesville. She is mom to two middle-schoolers and she also teaches environmental journalism in UF's College of Journalism and Communications where she went to college.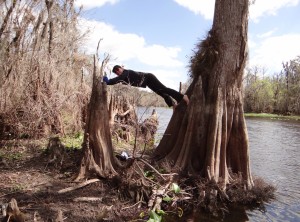 Karen Chadwick: I was born in Sarasota Florida in 1959. My Grandmother took care of my sister and I a lot when we were children and we spent many days playing on the beautiful white sand beaches and fishing on the local piers. I often ventured off by myself to explore the woods, creeks, and mudflats in the ay.
One of my favorite places to explore was a big drainage ditch that ran through my Grandmother's neighborhood. Storm water runoff would sometimes pour down the length of the ditch forming deep rushing rapids then enter a large pipe that ran under the town and out to Sarasota Bay. I was fascinated by the amount of wildlife that lived in that tree lined ditch below the view of the adults. The neat houses with trimmed yards were a barren void, comparatively. Small mammals, insects, worms and birds and the occasional snake carried on with the business of life. Sometimes, between thunderstorms little fish swam in the trickle of the stream and I worried about what would happen to them when the rains came and washed them away.
The power of the raging storm water carved out rocks and roots from the sloping sides and delivered treasures my Mother unceremoniously called "trash". Sometimes after a storm we challenged the force of our "river" by getting in the water and letting it carry us down stream toward the pipe. We would grab exposed tree roots and pull ourselves out to safety before we got too close to the opening. Whoever got the closest to the dark black hole won this dangerous game of "chicken". I was not allowed to go to the ditch but the place was irresistible to me.
Throughout my childhood I always remembered the first time I saw Silver Springs. As a child I rode the quiet glass bottom boat and the vision of the sparkling clear blue water roiling up from gapes in the rocks, fish swirling around in the current and shorelines dotted with birds and alligators seemed to me, a grand example of animals, water, plant life and humans living in harmony. Even though the health and vitality of Silver Springs and Silver River are not what they used to be, newcomers are still amazed by this spring.
About eight years ago I got my captain's license so I could take people on "paying tours". Sometimes I get paid and sometimes I don't. Either way my true reward is to see the excitement and sense of wonder on people's faces when they see Silver Springs, the first time for themselves. No matter what the person's age is the journey always evokes a sense of admiration. I recently took this 6 year-old boy's family on a tour of Silver River. The look on his face as he gazed down into the depths was certainly the look of wonder.
Karen has produced museum models and installations for the Museum of Natural History in Gainesville, Orlando Science Museum, Silver River Museum, Hillsborough River State Park, Mote Marine Laboratory and Aquarium, Mote Aquaculture Park, Weinman Museum GA, Aquarium of the Bay San Francisco, Lowery Park Zoo Tampa, Clearwater Marine Aquarium, and Withlacoochee Gulf Preserve Yankeetown, among others.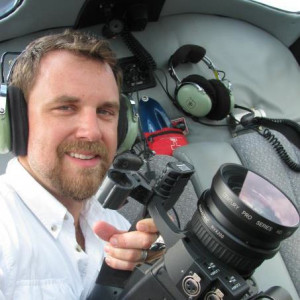 Eric Flagg studied Environmental Science at the University of Florida and spent several years as an environmental consultant conducting environmental and water quality investigations throughout the U.S.
Eric merged his interests in science and the natural world with film, and pursued a Masters Degree at the Documentary Institute at the University of Florida in 2004.
In 2005, Eric co-founded Jellyfish Smack Productions with Isaac Brown, and together completed their Masters Thesis film, "Gimme Green" in 2006 which won a Student-Emmy and was nominated for a Student Academy Award and has screened at more than 100 festivals worldwide and had it's television premiere on the Sundance Channel.
Since 2006 Eric has been producing and directing award-winning documentary films centering on environmental issues both at home and abroad. Eric produces media for non-profit organizations and private companies including Pearson Education. With Pearson, Eric produces interactive 'video field trips' that help teachers bring the 'field' into the classroom ranging in topics from waste-water treatment and recycling to prescribed forest fires and solar energy collection.
Since 2007 Eric has been an adjunct professor in Video Production and Telecommunication at University of Florida and The Art Institute of Jacksonville and served as Academic Department Chair for the Digital Film and Video department at the Art Institute of Jacksonville. Currently Eric is the Coordinator of the Digital Media Technology program at Santa Fe College in Gainesville, Florida.
Eric has a passion for story, a passion for teaching and most of all a passion for learning. See examples of Eric and Jellyfish Smack Production's work here: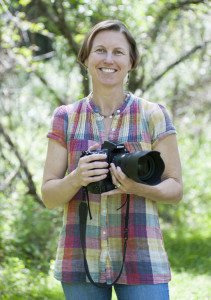 Kristen Grace is a photographer for the Florida Museum of Natural History and has worked as a higher-education photographer for 10 years. She earned her degree in journalism and communications from the University of Florida. Prior to working for the museum, Kristen has worked as a photographer for the UF Levin College of Law, The Naples Daily News and UF University Relations. She has also served as an adjunct lab instructor for MMC2100 at the UF College of Journalism and Communications and will teach, for the fifth summer in a row, a nature photography weeklong field camp at the natural history museum for rising third through fifth-graders.
Kristen has a passion for her natural surroundings and loves sharing that passion with young people through photography. She has woven nature and conservation projects into her 17 years of exploring this world with her camera and feels that children who look at this planet through the lens can have profound experiences.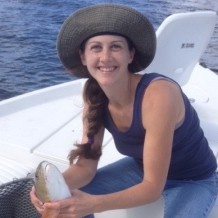 Val Leitner, Food Director. Val is co-founder of Blue Oven Kitchens Inc, the non-profit kitchen incubator in Gainesville.  She has over ten years of experience in all aspects of foodservice, including consulting in local food and food entrepreneurship.  She offers the community local food workshops which combine locally sourced food with presentations on a variety of topics.  In addition to consulting and workshops, Ms. Leitner teaches humanities and English at Santa Fe College and works part-time as a deckhand on a shrimp boat.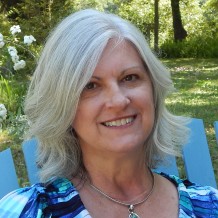 Natalie Lyons, Associate Field Director. Natalie became fascinated by Florida's water system after viewing Water's Journey: The Hidden Rivers of Florida during a general education class at the College of Central Florida. This influenced her decision to earn a minor in Sustainability Studies along with her B.A. in English from the University of Florida. During the capstone course she served as an intern for Florida's Eden, a nonprofit organization that recognized water as the singular key environmental treasure of North Florida and its over 1000 natural springs. She later served as a charter member on the board of directors for Silver Springs Alliance, Inc., where she played a pivotal role in attaining 501c3 status for the newly formed organization, and as an officer of the Howard T. Odum Florida Springs Institute, Inc. She recently earned her M.A. in Leadership and Management and Human Resources Management from Webster University. In keeping with her keen interest in nonprofit management, Natalie is employed by LifeSouth Community Blood Centers, Inc., where she is a Corporate Administrative Assistant to the CFO and the Director of District Operations.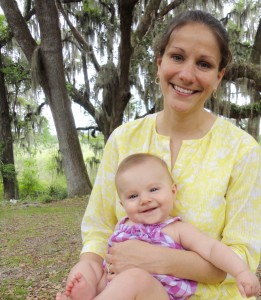 Katie McDonald, Camp Director. Growing up in Gainesville, I played in the creeks, springs, rivers, lakes and beaches. Both of my grandmothers had creeks right in their backyards. I spent countless hours with siblings, cousins and on my own exploring, splashing and imagining. Trying to keep up with my big brother meant showing no fear despite bugs, scrapes or being lost in the woods!
Immediately after high school I began working at Camp Crystal Lake. Not a summer camp kid myself, I fell in love with the opportunity camp provides to teach students in the most powerful classroom- the outdoors- in addition to the strong bonds that having these experiences with peers creates. This love kept me coming back for 13 summers as a counselor, river guide and then assistant director.
More recently my summers have been spent exploring nature and the arts with my daughter, as well being an instructor with the Harn Art Summer Camp.
As a teacher's kid, I tried to resist my calling early on after seeing the tireless hours my mother put into her students and her classroom. By the end of high school I realized the classroom was where I was meant to be. I graduated from the University of Florida with degrees in Art Education and Printmaking and became a fourth generation teacher. I am currently in my 11th year teaching art at Glen Springs Elementary. I passionately believe in the power of the arts as a tool for students to learn about the world in which they live and to help them communicate their thoughts, feelings and knowledge.
John Moran: Traveling the Sunshine State with his cameras, John Moran seeks his vision of natural Florida as it must have appeared to Ponce de León and other early strangers in paradise. Moran's work celebrates the magic of a unique landscape born of water and blessed with beauty beyond measure.
His portfolio of landscape and wildlife photography ranges from the Gulf to the Atlantic with an emphasis on Florida waters: the springs, rivers, lakes, swamps  and coasts, and the creatures that inhabit them.
A University of Florida graduate, Moran's photography has appeared in numerous books and magazines including National Geographic, Life, Time, Smithsonian, The New York Times Magazine and on the cover of the National Audubon Society Field Guide to Florida. He has been named Photographer of the Year for the Southeastern U.S. by the National Press Photographers Association.
He left the world of daily journalism in 2003 to concentrate full time on photographing the best of vanishing natural Florida. Moran's Journal of Light: The Visual Diary of a Florida Nature Photographer was published in 2004.
Alarmed by the changes we've seen in our iconic springs, Moran partnered with artist and art historian Dr. Lesley Gamble in 2012 to create the Springs Eternal Project, a deep meditation on water and Florida's future.
Moran's long-term love affair with the springs of Florida is chronicled in a compelling museum exhibition. Springs Eternal: Florida's Fragile Fountains of Youth opened in 2013 at the Florida Museum of Natural History in Gainesville and is now traveling statewide. A companion book is in the works.
His speaking programs, detailing a photographer's search for the soul of Florida, have been called "exquisite," "lyrical," "eye-opening" and "like nothing I've ever seen."
On photographing the nature of Florida, Moran says, "Truly a universal language, photography can help us better understand and appreciate the incredible gifts of nature bestowed upon this great place we call home."
Gary Mormino, past director of the Florida Studies Program at the University of South Florida, has said, "If Florida had a Photographer Laureate, John Moran should hold that title."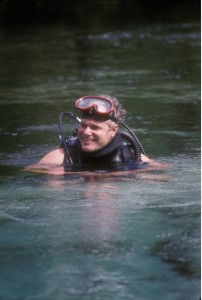 Tom Morris, Field Director: I was raised in sunny, warm Jacksonville, and learned to swim at an early age, spending most of my childhood summers in the water.  I used to go camping with the family at Ichetucknee Springs when it was still just a place in the woods.  I mastered snorkeling there.
Around 1960 my dad came home with a SCUBA tank and regulator.  We had a basic instruction manual, written by Lloyd Bridges of Sea Hunt fame.  We taught ourselves how to dive in a neighbor's pool, and it was not long before we were diving into the entrance cavern at Madison Blue Spring.  I soon put a flashlight in a plastic bag, and have been going into underwater caves ever since.
Later I earned degrees in Wildlife Biology and Botany from the University of Florida.  My new career in biology and my old hobby of diving were a perfect match, and I developed a new appreciation for Florida's springs and aquifer caves.  I realized they were not just beautiful and exciting places to explore, but were also ecosystems, critical habitats to rare and unusual animals.
In the early 80's I started diving with Wes Skiles and we became lifelong diving partners.  Wes embarked on a filmmaking career, and I got to tag along and help as a lighting man and biological consultant, and sometimes even ended up in front of the camera.  We filmed documentaries involving springs in several countries, both above and below water, always emphasizing the protection of natural resources.
I have worked at the SJRWMD and the Center for Wetlands at UF, and as a biological consultant.  I currently work at Karst Environmental Services, a company specializing in water and biological resource projects in Florida's spring country.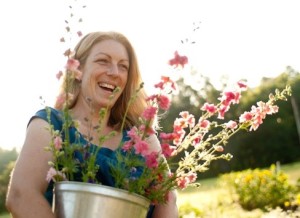 Anna Prizzia is the co-director and co-founder of Forage, the non-profit focused on supporting and sustaining local food efforts in North Central Florida. As part of this work, they host the Southern Heritage Seed Collective and work with the Alachua County Farm to School to Work program.  She also works as the Campus Food Systems Coordinator for the University of Florida, and manages the UF Community Farm.  She has 10 years of experience in sustainability and food system efforts, including working as statewide coordinator for the Florida Farm to School Program, management of sustainability efforts at UF and with institutional food service at UF, and serving on the boards of Slow Food Gainesville and the Alachua County Nutrition Alliance.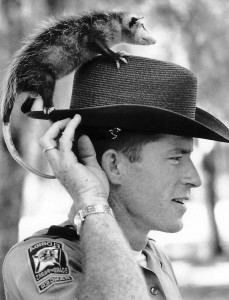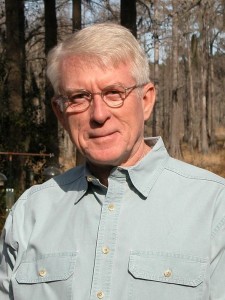 Jim Stevenson served as Chief Naturalist of Florida's State Parks for 20 years during which time he developed the educational and the land management programs for the state park system.
He was Chairman of the Florida Springs Task Force and Director of Governor Bush's Florida Springs Protection Initiative. Jim retired in 2003, after 38 years with the Department of Environmental Protection.
In recognition of his dedication to the protection of Florida's springs, the State of Florida named a large spring on the Suwannee River "Stevenson Spring."
And for his longstanding stewardship of Florida's public lands, the Governor and Cabinet dedicated the "Jim Stevenson Resource Manager of the Year Award" that is given annually to the most deserving state land managers in the Florida Park Service, the Florida Forest Service and the Fish and Wildlife Conservation Commission.
He is now striving to protect Florida's state parks.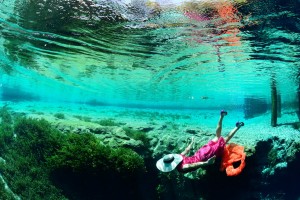 Margaret Ross Tolbert: When I was young, where I grew up, spring water came from a fissure/crack in the mountains, an icy stream, a muddy lake with floats and sliding boards.  We learned to swim. Water made you buoyant so you could swim from one place to another. Water was essential for our survival. I understood we were organisms where water passed in, through, and out.
Beyond that water was a sensation, something to splash in.
Before I entered the springs, and saw what was in them, I liked to paint still lives, something that showed, in reflected surfaces of vessels of water, other refracted and reflected worlds within a prism-like form. I painted illusions of objects, things you looked at.  I had a graduate degree in Fine Arts (MFA) from the University of Florida. Then one day I went underwater with a mask at Ginnie springs. And suddenly everything was different.  I was IN the water, in a magical space.
Very soon I started "painting the springs."  The paintings grew larger and larger so the experience would be about immersion, and entering the painted space.  While my other series of paintings, sketches and lithographs were about journey, memory and anticipation, the Springs paintings were about the immediacy of this surreal, beautiful and penultimate destination of the Florida springs that invited entry and assimilation.
I wanted to see all the springs I could and each time experience this other world. When I entered that same zone with my artistic work process, I could then document the traces of this experience with paint and marks.  I could make large paintings that made you feel you were immersed, as in the presence of liquid and color that called up the space and the underwater blue of the springs.
The Springs science was a new one, and I was inspired to learn all I could about this complex looking-glass world.  The science of the springs is as dazzling and perplexing, as it should be for a place so different from most of our terrestrial existence.  Coming into contact with the springs, sketching the flora and fauna, and writing notes and poems about them, allows me to piece together a knowledge and recollection that suggests these special places.
Solo springs painting exhibits began in 1993 in Stockholm, Sweden  and have continued ever since: AQUIFERious exhibits—the book and art exhibit about the Florida springs and Floridan aquifer, ,  in New Orleans, UVA in Charlottesville, Virginia, , and in Gainesville, Tampa and Avon Park in Florida.  Solo exhibits with Sirena of the Springs and springs paintings have been held in New Orleans,  Stockholm;  Miami, Clearwater,  Lakeland, Tallahassee, Daytona Beach, and other venues in Florida. The springs paintings have been in group exhibits and commissioned installations in the Orlando airport, Stockholm, Sweden, Santa Domingo, Dominican Republic, Ankara, Turkey, and many other locations.
My work is featured in several upcoming films about Florida springs:  AQUIFERious(youbute:  https://www.youtube.com/watch?v=WzZMnUpSgGY, Hidden Secrets of Florida Springs, and Lost Springs.