art, film, literature and culture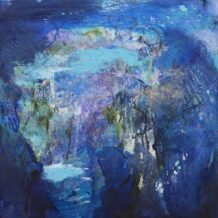 Selected Resources
The unique and spectacular beauty of Florida's springs has inspired many notable artists, including painters Margaret Ross Tolbert, Johnny Dame,  Jim Draper and Annie Pais; cartographer and visual artist Eric Hutcheson, photographers John Moran, Mark Long and Jenny Adler; and photographers/filmmakers Wes Skiles, Eric Flagg, Matt Keene and Jill Heinerth.  See links to their work in the tabs below.
Margaret Ross Tolbert has tuned her attention to the springs of Florida more than any other painter, and her work resides in public and private collections throughout the world.  Speaking and exhibiting internationally, Tolbert is one of the springs' foremost advocates.  Her award-winning book Aquiferious (2010) is a visually stunning compilation of art and science, featuring Tolbert's luminescent paintings and poetry, and essays by leading springs scientists, writers and researchers.
There's an abundance of wonderful springs-related reading to choose from, including Bill Belleville's creative non-fiction books, natural histories by Archie Carr and Lars Andersen, and cultural histories by Lu Vickers, Gary Monroe and Rick Kilby.  Doug Stamm's The Springs of Florida offers a natural history and field guide for divers, paddlers and visitors.
Acclaimed water journalist Cynthia Barnett's numerous publications and two books, Mirage: Florida and the Vanishing Water of the Eastern U.S. (2007) and Blue Revolution: Unmaking America's Water Crisis (2011), should be required reading for every Floridian.  Barnett travels the world researching and speaking on water issues.  Blue Revolution is a powerful look at water and community in America, and is the first book to call for a national water ethic. See the Literature/Culture tabs for descriptions and links.
In addition, Barnett's North Florida Springs: The Fountainous Region, a literary timeline for the 18th, 19th, and 20th centuries, is offered in the tab below.
Jill Heinerth's film, We Are Water (2012), makes a global statement about our vital connection to water that includes several Florida springs.  For more information see the Film tab.  Click on here to watch via streaming.
Environmental filmmaker Eric Flagg's latest video, Following the Ichetucknee (2014), is a meditation on land use and how it affects the river and springs.   A lush and tantalizing view of this "sacre bleu"river  is offered in his recent video Ichetucknee Dreams.  For a seriously funny look at America's love affair with lawns, don't miss the documentary Gimme Green (2206),  co-directed with Issac Brown.
Matt Keene and Florida Defenders of the Environment have just produced a terrific website and video, River Be Dammed (2014), which documents the debacle that is the Rodman Dam.  Interviews with Karen Chadwick, Karen Ahlers, Robin Lewis, Lars Andersen, Whitely Markle and others discuss how a taxpayer boondoggle negatively impacts the Ocklawaha River and the ecologies it has supported for ten thousand years.
Lesley Gamble's Swimming Through Air is a joyful, humorous and deeply affectionate underwater tour through some of the flora and fauna of Florida's marvelous springs.
For a wonderful article on how art can help save our springs, see Jenny Adler's Lenses and Love: The Art of Saving Florida's Springs.
And don't miss Florida's Eden's Blue Path exhibit at the Seagle Building in Gainesville (408 West University Ave.) for an excellent overview of the conditions impacting our North Florida springs.