sponsors and partners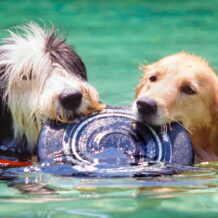 The Springs Eternal Project is deeply grateful for the support of our partners, contributors, sponsors, co-workers and loved ones.
An affiliate of Alachua Conservation Trust, the Springs Eternal Project has benefitted immeasurably from the guidance and generosity of Tom Kay, Lesa Holder, Chris Burney and Robert Hutchinson.  We thank them for sharing their wisdom, time and resources, and for working to keep Alachua County a place we're proud to call home.

MANY THANKS TO OUR SPRINGS AMBASSADORS CAMP 2016 SPONSORS!
Generous support from the Lydia B. Stokes Foundation and the Felburn Foundation has enabled us to continue expanding the Springs Eternal Project's reach and vision, which includes the 2016 SPRINGS AMBASSADORS CAMP.  We are grateful for our many additional sponsors: First Magnitude Brewery, for holding a very successful "Springs Run" that raised significant funds for scholarships; Blue Springs Park, for their ongoing generosity and support in welcoming us and other educational initiatives to their wonderful site; Waterlust, for donating a percentage of their springs-themed leggings to the camp; Ginnie Outdoors, which continues to give back to the community by supporting springs research and educational outreach; and those who contributed to the Sirena bus campaign. Sirena will be coming to camp, albeit in another form!  We deeply appreciate the support of Akira Wood, as well as Tim, Mike & Kevin from Raven's Glen and Our Santa Fe River. We're also proud to partner with Honda of Gainesville, Forage Farm, Wells Fargo, Swallowtail Farm and the Smithsonian Water/Ways exhibition, where some of our campers artwork will be displayed at the High Springs Museum July 16-August 27, 2016.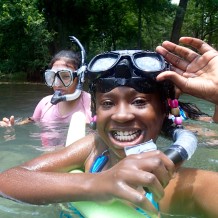 We deeply appreciate the Florida Museum of Natural History, principally Doug Jones, Darcie MacMahon and Ian Breheny, for caring enough about the springs to host and help develop the Springs Eternal and Finding the Fountain of Youth exhibits.
Springs Eternal Project partners also include the Regional Transit System of Gainesville, principally Theresa Harrison and Chip Skinner.  We admire their commitment to public service and enthusiasm for new ideas. Their ability to work creatively helped us take the Urban Aquifer from pipe dream to concrete reality.
With abiding gratitude we acknowledge the community of Springs Eternal Project contributors and Urban Aquifer sponsors. Their passion for the springs and willingness to share years of experience, wisdom, research and insight, continue to shape and animate the heart and soul of this project:
Springs Eternal Project website designer:  Shirley Lasseter
Springs Eternal Project website Contributors and Moderators:
Jenny Adler, Lars Andersen, Cynthia Barnett, Karen Chadwick, Bruce Day, Stacie Greco and Alachua County DEP, Jill Heinerth, Eric Hutcheson, Rick Kilby, Dr. Robert Knight, Annette and Mark Long, Merrillee Malwitz-Jipson, Paul Marrafino, Lucinda Merritt, Tom Morris, David Moynahan, Terri Skiles, Margaret Ross Tolbert, Alan Youngblood.
Urban Aquifer Sponsors:
Butler Enterprises
Ginnie Springs Outdoors
Plum Creek Foundation
Quinn Family Charitable Foundation
Linda and Thom Tyler
Betsy Styron and Bob Fulton
The following people have given generously of their time, expertise, talents and resources throughout the entire project:
Rick Kilby
Lucinda Merritt
Margaret Ross Tolbert
Cynthia Barnett
Dr. Robert Knight of the Howard T. Odum Florida Springs Institute
Jim Stevenson
Merrillee Malwitz-Jipson
David Moynahan & Crystal Wakoa
Annette & Mark Long
Tom Morris
Dave Wilson, Cris Costello & Macy Zander, Sierra Club
Lars Andersen
George Tortorelli
Mallory O'Connor
Annie Pais
Stewart Thomas
David Beede
Caron Cadle
Ella Vasallo
Steven Crosby
JJ Buchholz
Jenny Adler
Loye & Barney Barnard
Jim Trebilcock
Jacqui Sulek, Audubon
Pete Colverson
Additional Project Support:
Mark Wray and Rose Meadows, Ginnie Springs Outdoors
Celeste and Hoch Shitama, Running Springs
Kim Davis, Blue Springs
Linda Califf, Glen Springs
Gene Vaccaro, Warm Mineral Springs
Mark Emery
Bill Tippit
Our Santa Fe River
Scott Mitchell, Director, Silver River Museum
Barry University Center for Earth Jurisprudence
Sherry McGowan, Park Manager, Ichetucknee Springs State Park
Sam Cole, Biologist, Ichetucknee Springs State Park
Donald Forgione, Director, Florida Park Service
Ivan Vicente, Crystal River National Wildlife Refuge
Lynne Flannery, Blue Spring State Park
Susan Hutchins, Wes Skiles Peacock Springs State Park
Alta Systems, Inc.
Jon Fletcher Photography
Cheuvront Studios
Flair Pro Color Lab
Light & Motion
Springs Eternal Exhibition Sponsors:
Jim and Benda Gissy
Ken and Linda McGurn
Felburn Foundation
Friends of Wekiva River, Inc.
Jeri Baldwin
Florida Museum visitors
Additional Donor Support:
Anthony Ackrill
Claudia Adrien
Lorraine & Jack Amick
Gregory Anderson
Gary Arthur
Loyce & Marshall Barnard
Charles Barrilleaux
Holly Bird
Bruce & Lisa Boswell
Gary Brooks & T.L. Haskins
Caron Cadle
Christian & Maryse Cafiti
David & Jean Chalmers
Susan Clary
Paul & Josie Davenport
Carol Dicentio
Mike Dickey
Chad Drummond
Brendan Ebersole-Boswell
James & Joan Erwin
Joel Frieze
Paul & Reisa George
Wayne Gray
Greater Gainesville Aquatics Assoc.
Renee Hoffinger
Robert Hutchinson & Meg Niederhofer
Gary Jacobs
Ed & Carole Johnson
Charlotte & Michael Loomis
Lee Malis
Merrillee Malwitz-Jipson & Doug Jipson
William & Marianna McElroy
Mike McNally
Alexis Moran & Joost Houtman
Caitlin Moran & Thomas Martens
Dennis Moran & Betsy Hayford
David Moynahan & Crystal Wakoa
Cathleen Nagler
David Pais
Bob Palmer
Walter & Jean Phelan
Noah Shitama
Doug Spirelis
Jim & Yvonne Trebilcock
Mary Trew & Weaver Gaines
Mark Venzke
Jeff Wade
Dave Wilson
–Lesley Gamble