Springs Eternal: Florida's Fragile Fountains of Youth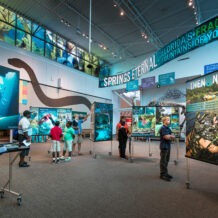 John Moran
Florida Museum of Natural History, March 23, 21013– January 5, 2014.
View a PDF of the exhibition panels 

here
Springs Eternal: Florida's Fragile Fountains of Youth is a 30-year retrospective exhibition of Florida nature photographer John Moran's love affair with the springs of Florida.
Taking center stage in the Central Gallery at the Florida Musuem, a series of photo and text panels chronicles the story of our springs—their beauty, their ecology, and the people who are drawn to them, body and soul.
Pairing several sets of graphically compelling then-and-now photographs, the exhibit also focuses on the reality that many of our springs are in decline, their flow diminished because of groundwater overpumping and long-term rainfall deficit, their waters choked with algae fed by nutrient-laden sewage, manure and fertilizer.
High above the gallery, large-scale photo transparencies, by Moran and Lesley Gamble, are illuminated through clerestory windows and display stunning underwater panoramic views—sixty feet wide—of two springs, one healthy and one impaired. Dramatic and immersive, the aquarium-like atmosphere creates an opportunity for wonder and empathy, while the striking visual comparison invites questions and deeper reflection.
Timed to coincide with the Viva Florida 500 commemoration of Ponce de León's arrival in Florida, the exhibit premiered at the Florida Museum of Natural History in March 2013, where it will run through December 15th before traveling on to other venues statewide.