Springs Eternal: Florida's Fragile Fountains of Youth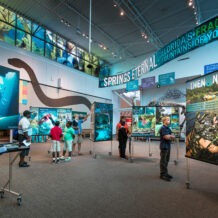 John Moran
Museum of  Science and History, April 4th, 2015– August 30th, 2015.
View a PDF of the exhibition panels 

here
Springs Eternal: Florida's Fragile Fountains of Youth is a 30-year retrospective exhibition of Florida nature photographer John Moran's love affair with the springs of Florida.
A series of photo and text panels chronicles the story of our springs—their beauty, their ecology, and the people who are drawn to them, body and soul.
Pairing several sets of graphically compelling then-and-now photographs, the exhibit also focuses on the reality that many of our springs are in decline, their flow diminished because of groundwater overpumping and long-term rainfall deficit, their waters choked with algae fed by nutrient-laden sewage, manure and fertilizer.
Springs Eternal and corollary programming will be presented in partnership with the St. Johns River Alliance. The exhibit is presented in collaboration with Cultural Fusion's 2015 Year of the River.  #YOTR 
http://www.themosh.org/exhibits/traveling-exhibits/springs-eternal-project/