history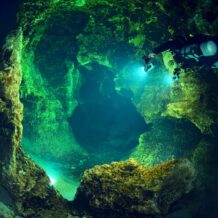 Ginnie Springs
Ginnie Spring is named after Virginia, a woman who once washed her laundry at the spring.  It is also famous as the location where Jacques Cousteau dove in 1974 and praised the crystal clear water as "visibility forever."  Prior to European settlement, the Timucuan Indians had a reservation and a large stone tool manufacturing operation on the Santa Fe River nearby.   Divers still find treasures from this old settlement, including pieces of broken flint, arrowheads, and pottery.
The group of six springs that are known as Ginnie Springs, as well as the surrounding 600 acres, have been privately owned by the Wray family since 1971.  Ginnie Springs Outdoors LLC has been in operation since 1976.
The spring's modern history started in the mid-1900s when scuba diving became popular.  Divers flocked to Florida's numerous caves, but between 1960 and 1975 almost 150 people died in the winding underwater passageways.  Most of them were inexperienced divers lacking the necessary qualifications and gear.  As a result, many of the state's public springs were closed to diving, making it harder, in turn, for private springs to keep divers out.
Ed Wright, one of the largest landowners in Florida, sold Ginnie to its current owners, the Wray family.  Before it became an official park, Ginnie was well known in the dive community and quite popular.  But it was also known to be treacherous, claiming 22 lives between 1960 and 1984.
When Bob Wray, developer and father of the current owner Bobbie Wray, purchased the land, he built a personal house there but realized that it would be impossible to keep people from diving in the springs.  He opened the park to the public (charging a $10 fee for diving in 1976) and increased safety measures by installing an iron grate over the most dangerous part of the cave and putting up signs warning divers about the dangerous caves.  He also built a dive shop.  Soon Ginnie Springs became a nationally renowned dive spot, attracting about 20,000 divers in 1983.
See this St. Petersburg Times article from Tuesday, November 29, 1983 (pages 1D-2D) entitled "Florida's Underground Frontier" by Peter B. Gallagher for more interesting historic information about Ginnie.
"Before Ginnie was a park, it was a real adventure just getting close to the spring without getting your car stuck in the swamp.  With few people visiting the spring it was truly a wildlife sanctuary.  Beautiful eelgrass carpeted much of the basin.  Fish, turtles, birds, crayfish and reptiles were abundant in the spring. But it was the springs cave entrance that first captured my attention."

Wes Skiles, "Leaving behind the days of innocence: Safeguarding the Floridian Aquifer" (2008) .