know your springshed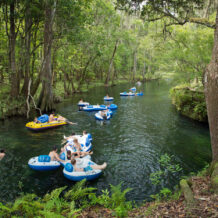 Ichetucknee Springs
When you see it on a map, nothing about Ichetucknee River hints that it is one of Florida's most spectacular natural treasures. In fact, if you don't know where to look, you might miss it altogether.
With a GPS, just plug in latitude/longitude of 29.985994°, -82.760140°.  But, if you still know how to operate a good-old map, look northwest of Gainesville about 20 miles and find Santa Fe River (it's easy to spot as it defines the northern edge of Alachua County). Now, follow the river west (for the record, you're now following the river downstream). About 20 river miles west -northwest of the town of High Springs you'll find Ichetucknee. It's that little 5.5 mile squiggle coming down from the north. If you arrive at the Suwannee, you've missed it by 7 miles.
A more detailed map reveals some of the things that make this relatively short, 5.5 mile river so special. Most noticeable are the nine springs along its banks: Ichetucknee, Blue Hole, Cedar Head, Roaring, Singing (these last two collectively called Mission Springs), Devil's Eye, Grassy Hole, Mill Pond, and Coffee Springs.
What maps don't show are the river's many unnamed spring vents. These are significant, adding nearly 19% of the river's overall flow.
In recent years, the Ichetucknee springs (named and unnamed combined) have discharged an average of nearly 174 million gallons of spring water every day. While that is certainly a lot of water, it's 25% less than the average flow in the early – mid 1900's, when the flow averaged 233 MGD.
Perhaps the most important thing the maps don't show is that 200,00 people come to Ichetucknee to swim in the springs and tube the river each year. Others come to paddle or hike the forests. Their economic impact is estimated to be about $20 million dollars per year.
In the end, words and maps and photos come up short when trying to convey the enchantment of Ichetucknee. It's like trying to describe the feeling one gets when they go to their church or synagogue or mosque or sweat lodge. It can't be done. But, hopefully, these pages will help you know the river a little better and grow your understanding of the river's past and why it has been a Mecca for people for nearly 14,000 years.
For a thorough description of Ichetucknee and its springshed, with all the facts and figures you could ever hope for, please visit the Ichetucknee Springs and River page on the Howard T. Odum Florida Springs Institute website.
For an excellent explanation of the Ichetucknee springshed, see this short video Tour of the Ichetucknee River Trace led by Jim Stevenson, Chief Biologist for the Florida State Park System for 20 years and former Chairman of the Florida Springs Task Force.