know your springshed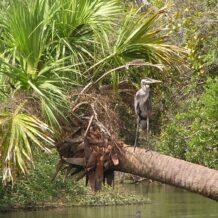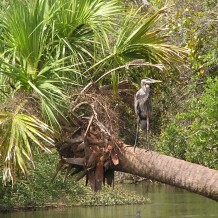 Juniper Springs
A springshed is the area that contributes groundwater to the spring.  Due to the fluid nature of water and variability of rainfall springsheds are not static or stationary. However, springshed can be generally defined on a map. The springshed also defines the area of concern for protecting the health of a spring.
According to a 2009 US Geological Survey report, (Hydrology, Water Quality, and Aquatic Communities of Selected Springs in the St. John's River Water Management District)  the areal extent of the springshed for Juniper Springs has not been determined.   A likely reason that the springshed has not been delineated is that Juniper has not incurred the impacts that need to be urgently investigated in other springs. Studies to develop recovery strategies for Juniper are not needed, at this time.  The remote, and insulated national forest setting features few land uses that potentially introduce nutrients or contaminants into the groundwater.  Therefore, because of its natural state, scientific studies use the water quality characteristics of Juniper Springs as an example of a baseline condition for development of management goals for less fortunate springs.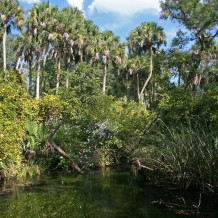 Another fascinating characteristic of the Juniper springshed hydrology disclosed in the same USGS study is that the spring water is old water.  The flow from the spring comes from a deep reservoir nestled beneath the hills of the central ridge.  To determine the age of spring water 64 different chemicals were tested from water samples including pesticides, antibiotics, and other traceable substances that are known to come from certain time periods.  Other techniques used to determine the age of spring water include radioactive isotope testing.  The reality is that with most springs there is a mix of water with different ages due to sinkholes and conduits in the aquifer, but the USGS found that  . . . "60 to 80 percent of the water is older than 60 years and is tracer free."
It is suspected that nearby Juniper Prairie is an area of efficient percolation supplying groundwater to the spring.  Juniper Prairie is a series of shallow ponds and dry ponds just over a mile from the head spring that percolate rapidly.  Below is a picture I took hours after a one inch rainfall event.  The bottom is nearly dry.
KNOW your Water Management District (WMD)
Juniper Springs is located in the St. John's River Water Management District (SJRWMD). Florida's water management districts are charged with the responsibility for watching over our precious water resources. To monitor water supply, the district requires large water users to apply for a water use permit.  The water management district has committed major resources to monitor the water levels in our underground aquifer and research springs to ensure their continued health.  Other notable springs in the St. John's district are under greater pressure such as Wekiva springs near Orlando ; Blue springs in OrangeCity and Silver Springs in Ocala.  The communities where these more urbanized springs are located rely on them for economic activity and their sense of place.
The district  monitors the water quality and quantity of Juniper Spring but the need for mitigation or recovery strategies is not urgent. As stated previously the value of Juniper Springs to scientific research that the District initiates, is that of a control and an example of the characteristics of a spring in a natural environment