why we love this spring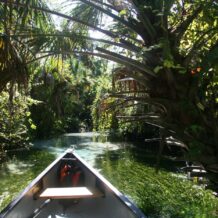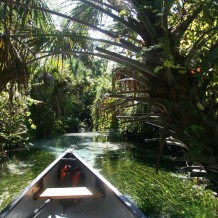 Juniper Springs
Juniper Springs has served as the popular local swimming hole for the people of east MarionCounty since it was developed as a recreation area in the mid-thirties.. It has become a fixture in the lives and collective experiences of locals that live in and around the forest.  Based on it being the centerpiece of a National Forest it also receives visitors from across the country. We love Juniper Springs because as part of a National Forest is part of our National heritage.  The biology of this place is unique and special. Even those not familiar with the science of biodiversity or ecosystems recognize this subtropical ecosystem in the middle of a sand pine forest as an oasis. One can imagine before the advent of air conditioning the spring was a loved even more as welcome refuge from the heat of the summer.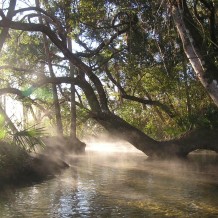 I first came to Juniper Springs as a boy scout in the mid-sixties.  Naturally, I was fascinated with the clear water and trying to dive down to the bottom to figure out where all that water was coming from.  My Dad would say, "Get out of the water you're turning blue."  "I'm not c-c-cold," I would reply through my shivering teeth. I can still remember it, the bottom was carpeted in eel grass that shimmered bright green in the sunlight and I saw a big freshwater eel.  Wow! that was amazing!  I was hooked, and I am still hooked to this day.  The clear blue on blue water and surrounding thousand shades of green speaks to the hearts of many the same way it does to me.
More popular than swimming at the head spring is paddling the run of Juniper Creek.  The spring flow creates a sub-tropical seven mile run winding through the sand pine hills of the Juniper Prairie Wilderness area.  Here, on this small stream one can find a many things:  a sense of remote beauty, a jungle challenge, an athletic workout, abundant wildlife viewing, rich plant and animal biodiversity, learning to work as a team, the conquering of fears be it the fear of spiders, snakes or the remoteness of the wild and the satisfaction of confidence in your abilities.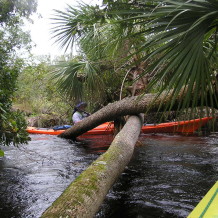 I am conveying a sense of warning here; if you are a first-time paddler you don't want to make Juniper Creek your first experience. The combination of a narrow, twisting and flowing stream coupled with several "pull-overs" and "duck-unders" calls for at least moderate paddling skills or extreme perseverance.  However I might add, only partially kidding, if you are getting serious in a relationship and you want to know how you and your partner can work together in a challenging or stressful situation;  I recommend paddling Juniper Creek together in a canoe.