health and science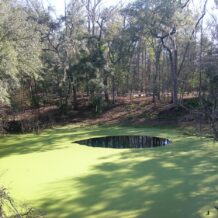 Manatee Springs
The water can be clear and beautiful, but the water quality at Manatee Springs is declining.
Nutrient levels are rising as they are in many of Florida's springs. Just about everything we do on the land contributes to nitrate/nutrient pollution in the springs. Septic tanks, municipal wastewater treatment systems, golf courses, yards and gardens, farms and even power plant emissions can cause nutrient levels to rise in the groundwater feeding our springs.
Currently Manatee Springs has a nitrate nitrogen level a little over 2 mg/L. A healthy spring should have less than 0.35 mg/L nitrate nitrogen.
Recently, the Florida Department of Environmental Protection retrofitted all the septic tanks in the park to advanced waste water treatment and moved the drain fields far from the cave conduits. At one point a sink hole opened up under one of the bathhouse drain fields and the spring had to be closed to swimming due to bacterial contamination. Upgrading the wastewater treatment and moving the drain fields to higher ground took care of the problem and improved the water quality at the spring.
Graph from Suwannee River Water Management District Water Portal Nitrate Data
Thanks to the high nutrients, the healthy grasses and plants in the spring have gone.
This photo was taken back in 1972 when the spring run was full of healthy submerged vegetation and lots of fish and wildlife.
Everything that is wrong with Manatee Springs can be fixed, but it will take an effort by the people who live in the spring's watershed to make changes. Human waste treatment will have to be improved.
In addition, farming best management practices that are currently for maximum crop production will need to be changed to best management practices for water quality improvement.
The Florida Department of Environmental Protection has a Basin Management Action Plan to clean up the water quality. The plan is to ask farmers to use Best Agricultural Management Practices for crop production in hopes that this will reduce nutrient pollution in groundwater.
There are also municipal waste water treatment system upgrades planned for some small cities, but so far Chiefland hasn't signed up for the program.