why we love this spring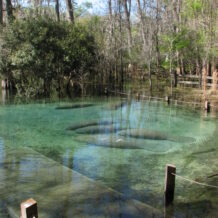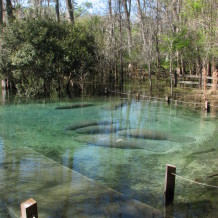 Manatee Springs
Manatee Spring is a first magnitude, blue spring that has a beautiful run to the Suwannee River. During winter months the spring hosts as many as a 50 manatees at a time on really cold days. Going there to visit is an outdoor enthusiasts dream.
Swimming, fishing, snorkeling, scuba diving, cave diving, canoe/kayak rentals, hiking and bike trails that cover a dozen or more miles through swamps, longleaf pine forests and oak hammocks. There are two "civilized" camping areas and one primitive area for kid's groups.
The park is riddled with fascinating geology–sinkholes or karst windows—into the Manatee Springs Cave System. On any given day, you may see deer, turkeys, fox, owls, eagles, swallow tailed kites and a number of other iconic Florida wildlife species—including Florida manatees.