Rainbow Springs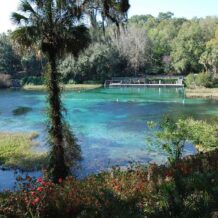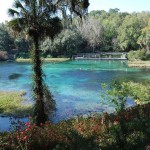 Rainbow Springs, a Jewel of Central Florida
Rainbow Springs, one of the three largest springs in the United States, is a jewel in the Springs Region of Central Florida. Over 400 million gallons of water a day flow from the spring vents at the headwaters and provide 98 percent of the water that flows in the Rainbow River, one of the longest and clearest spring runs in the world. The clarity of the water at the headsprings is over 200 feet (horizontally). This clarity encourages a wide variety of aquatic vegetation and wildlife that feed, breed and flourish in this natural community.
Rainbow Springs can be accessed via Rainbow Springs State Park, four miles north of the City of Dunnellon in Marion County Florida. The park has a swimming area in a section of the headwaters and also rents canoes and kayaks for an excellent paddling experience. The State Park also has a camp ground and a tubing facility with access to the lower portion of the 5.7 mile Rainbow River.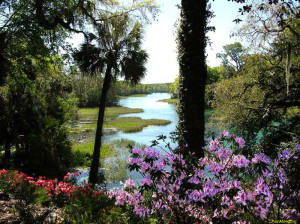 The spring water is so clear that many visitors feel a spiritual association when viewing this magical location. There is historical evidence that it was a gathering place for thousands of years with the discovery of Stone Age tools and mastodon bones in and around the springs.
Except for the roped off swimming area, there is no swimming or motorized water craft allowed in the upper 1700 feet of the river, the main spring area. This has allowed the submerged and emergent vegetation to flourish and provides a protected preserve where all levels of creatures in the food chain can develop in harmony with minimal human impact. The preservation of this zone has created a space where a remarkable variety of wildlife can exist.
Visitors to Rainbow Springs State Park can walk the landscaped trails past waterfalls to a butterfly garden, a woodland nature trail and pasture trail.There are picnic tables in pavilions as well as in shaded tree areas.Kayaks and canoes can be rented in a launch area just beyond the swimming area. There is a small snack bar for refreshment. Several special events are held on weekends that celebrate our Florida heritage, art, woodcarving and the area springs.
The State of Florida has designated the headwaters and river as the Rainbow River Aquatic Preserve. The U.S. Dept. of the Interior has designated Rainbow Springs as a National Natural Landmark. To find out more about Rainbow Springs select the links below or on the photos to the right.