know your springshed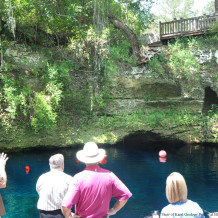 Rainbow Springs
Rainbow Springs is formed by spring vents at the headwater area in Rainbow Springs State Park and additional spring vents scattered along the northern third of the Rainbow River.
The largest number of vents with the largest flow of water is located next to the park Visitor Center. Several of the vents can be seen as bubbling pools or steam flows from the trails and boardwalks the circle the headwaters.
This spring flow come from hydrologic pressure through the Karst geology that is common in Central Florida. The land around the springs has a major portion of porous limestone which looks like a sponge and has fissures, cracks and tunnels which make it easy for water under pressure, even light pressure, to pass easily to a surface outflow point, a spring. One can view a profile of this Karst geology at the Blue Grotto Dive Center outside of Williston. Besides the full array of small cracks throughout the profile there are large conduits that measure 2 to 3 feet in diameter and a cave where scuba dive training takes place.
Research form the USGS and the local water districts using hydrologic pressures in wells has determined that the Rainbow Springs Recharge area extends northerly to include over 750 square miles of area. This extends beyond Dunnellon and Marion County to Levy County and Alachua County as shown on the map. The rain that falls in this area and reaches the aquifer (and is not pumped out by public and private wells) will flow to the vents of Rainbow Springs.
This unique geology and aquifer have created this special place where hundreds of millions of gallons of clear water spring forth from the ground and form one of most beautiful rivers in the world. The photo to the right shows an aerial view of Rainbow Springs and the Rainbow River as it flows south to join the Withlacoochee River and flows on to the Gulf.
The two maps on this page were obtained from the Florida DEP report "Nutrient TMDL for Rainbow Springs Group" January 2013.