why we love this spring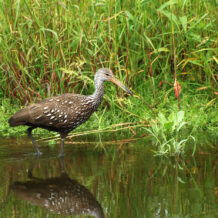 Rainbow Springs
Water is the essential ingredient for life. When we look at the Rainbow Springs headwaters there is a special feeling that we are close to life's beginning for humans and so many other species. Fish, snails, birds, otters, turtles and humans cluster at the clear evenly flowing headwaters of Rainbow Springs in appreciation that it provides all the basics that are necessary for life. People swimming in the spring water receive refreshment and renewal.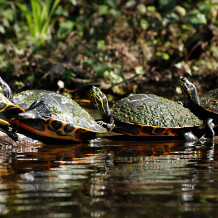 The Rainbow River State Park gives protection to these springs but also access to use the water and the surrounding area for non-invasive recreation. Swimmers can use a roped area and be refreshed with the 72 degree water year round. Kayaks and canoes are available for rental to quietly navigate the river and enjoy productive wildlife viewing. Numerous trails pass through the park and give excellent views of the springs and marshes where fish, turtles and an occasional otter are seen. Egrets, Herons and other wading birds stake out places in the marsh waiting for fishing opportunities.
Numerous picnic tables are scattered throughout the park where an impromptu lunch or planned picnic can take place. There are also four open pavilions which can be reserved for special family or group functions.
The park is a magical place where one can get away from daily pressures and be surrounded by beauty along with the relaxing sound of birds signing and a waterfall flowing. The trails near the headwaters and visitor center are paved There are also longer trails to a butterfly garden and a woodland nature and pasture trail.
Every person's first visit to the park and the springs overlook summons exclamation of excitement and appreciation. The local community loves Rainbow Springs and the visitors that find it, realize that this is a very special place that will bring joy for generations to come.