Silver Springs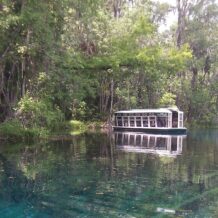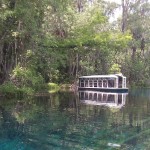 The tremendous volume of beautiful blue, life sustaining spring water endlessly pouring forth from mysterious dark caverns holds an allure I find perpetually captivating. Staring down into the constant flow is mesmerizing. Whether this glimpse into the veins of the aquifer is viewed from quaint antique glass bottom boats, or my own craft the feeling is the same. That feeling is a sense of wonder and deep appreciation for the natural systems that provide the gift of life in an abundant and glorious vision.
Proposed Silver Springs and Aquifer Replenishment Project 2/10/2015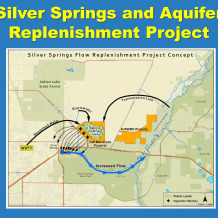 "Treating and recycling water from the Ocklawaha River through the spring and returning it to the river is a unique approach," said Fred Roberts, Governing Board member. "We can offset impacts of water withdrawals by creating an underground bubble of water that protects Silver Springs."
Click on image to read the plan.
Happy Birthday to the new addition to Silver Springs State Park!
The park is celebrating one year of ongoing projects and restoration. In Sept 2013, the private lease of Silver Springs ended. On October 1 the Florida Park Service reopened the attraction as one part of Silver Springs State Park. The new park merged the adjacent Silver River State Park with Florida's most historic springs and early tourist attraction. The result is that visitors now have access to a nearly 5,000 acre park …that surrounds the Silver River with two entrances and many choices of activities including but not limited to hiking, biking, horseback riding and rental, canoeing and kayak rentals, plus much more.
The park is now one year into long term efforts to restore the natural and cultural resources of Silver Springs. Projects in the past year have included: terrazzo floor restoration, modern sewer service, refurbishing of glass bottom boats and treatment of invasive plant species to name a few. Come and check us out to see all the updates. Be sure to look online at FloridaStateParks.org for all the tours, tram rides, and music being offered throughout the week.
The video below shows underwater footage shot near the spring head of Silver Springs in February of 2014. This video shows filamentous algae growing on aquatic plants in Silver Springs. The growth rate is unprecedented due to high nutrient levels such as nitrates in groundwater and can be detrimental to insects and snails. Decreasing flow levels in Silver (it's now a second magnitude springs, no longer a first) also contribute to the algae growth by increasing the concentration of pollution. This algae should not be growing here. We need to figure out how to limit the runoff that is ruining this spectacular water!
Here's another underwater video from February 2014. The Silver River is a wonderous adventure. The wildlife: monkeys, birds, turtles and gators are too numerous to count. The river is still beautiful and clear in spots but it won't always be that way if we don't take steps to save it.
Underwater footage of tapegrass in the Silver River, Silver Springs, Fl. Tapegrass, seen in this video is commonly covered with a thin coat of brown algae which contain diatoms. Snails and small fish feed on the diatoms. Filamentous algae can be seen growing on the tapegrass.
Matt Keene and Florida Defenders of the Environment have just produced a terrific website and video, River Be Dammed (2014), which documents the debacle that is the Rodman Dam.  Interviews with Karen Chadwick, Karen Ahlers, Robin Lewis, Lars Andersen, Whitely Markle and others discuss how a taxpayer boondoggle negatively impacts the Ocklawaha River and the ecologies it has supported for ten thousand years.