history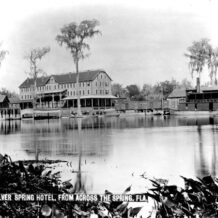 Silver Springs
Throughout history, Silver Springs has been a timeless oasis and a place of unparalleled beauty, offering respite to early settlers who drew sustenance from its 99.8 percent pure artesian spring waters.
Silver Springs does not look like it used to anymore. We have done a lot to change it. A concept I have been aware of throughout my adult life is the principle that all natural systems are connected. For example if pollution contaminates the land, rain will carry it to water bodies which will pollute rivers and streams. Pollution perks into the soil and at least in part contaminates groundwater and effects springs negatively. Springs affect the rivers and eventually the polluted rivers contaminate the sea and at the same time many people end up drinking polluted ground and surface water. Of course ecosystems including plant and animal life are affected. More examples of water system disruptions are created by the placement of dams that alter flow. The health of Silver Springs and Silver River has been compromised by both of the above mentioned alterations. As mentioned on the Know Your Springshed segment of this webpage, FDEP has determined, nitrates in Silver Springs need to be lowered by 79%.
Construction of the Rodman Dam inflicted drastic changes on the Ocklawaha and is causing problems for Silver River. This article from 2008 will give you a taste of the controversial issue from several perspectives.   As you can see, decline in Silver Springs due to the construction of Rodman Dam are mentioned.
This short video pairs footage from 1959, before the dam was closed with a clip filmed during the drawdown in January 2012. This intimate glimpse of the conditions before the closing of the dam and the resulting destruction of an ancient Cypress forest was created by Shirley Lasseter, Cinema Director for the Hippodrome Theatre.
Over the years I noticed a severe decline in the numbers of fish in Silver Springs. This excerpt from the SWFWMD blog details of the ailing status of the Silver Springs ecosystem.
 "Already, water clarity has decreased. Nighttime dissolved oxygen has declined by about 19%. Submerged aquatic plant biomass has declined by 21%. Total algal biomass has increased by 371%. Ecosystem productivity has declined by 27%. Insect productivity has declined by 72%. Fish biomass has declined by an astounding 92% and the flow of the spring has declined by 32% over the past decade and 50% since 1965."
This blog post also describes other threats to the spring like the possible effects from Adena Springs Ranch water withdrawals and addition of manure from the cattle ranch and slaughterhouse.
Well, a 92 % fish biomass decline, wow that's a lot! I think anyone who has looked down through that beautiful blue water over a span of decades like I have would agree that number is on the mark. Mullet, Striped Bass, Shad, and Catfish and others used to swim freely from the St Johns River through the Ocklawaha and into Silver Springs. Striped Bass spawn in spring fed locations but they have not been seen in Silver Springs for decades.
A few Mullet can be seen but their numbers are low. I consider myself an avid angler so of course I find a decimated fish population alarming. In response to that concern I decided to create a series of Gyotaku tradition prints focusing on the types of fish that were no longer permitted to migrate up the Ocklawaha to Silver Springs. Once printed the fish can be cleaned and eaten.
The Striped Bass is printed on a green background to make note of the increased algae levels. This print is mounted on a scrap board from the Wilson Cypress Mill located on the shore of the St Johns River in Palatka. The old growth Cypress trees along the St John's River, Ocklawaha and Silver River were cut and floated to the mill starting in 1893. Here is a link to a collection of records that can be studied regarding the mill.Who knows, this scrap of plank retrieved from the muddy bank of the St John's River (with permission) may have come from an ancient Cypress tree that once grew along the shores of a pristine Silver River over one hundred years ago. The way I see it, these prints give voice to the fact that these systems are connected.
Another disconnection Rodman Dam has created is the blockage of boat traffic from the St. John's River to Silver Springs. Starting in the 1830's steamboats chugged their way up the Ocklawaha and into Silver Springs. Here is an article from the Ocala Star Banner in 1978 that gives a brief overview of that era. There is also a photograph of Silver Springs Depot which served the interior by wagon and rail. I find this time period and method of travel fascinating so I decided to do a few pen and ink sketches to further experience this bygone age. They came out the same way I feel about most of my work. They are better than some people could produce and worse than others may attempt. No matter. It's the experience with the process and the involvement with the subject that matters to me.
The Hiawatha was constructed in 1904 with local woods in Palatka by the Hart Line. It was 89' long, 23.5' wide, with a depth of 4.6 and was abandoned in 1919 at Hart's Point, East Palatka and finally removed around 1980. It is an absolute wonder to me that they were able to navigate this huge craft in the narrow confines of the Ocklawaha and Silver Rivers. This page has lots of pictures of the Hiawatha in various stages of its existence.<
To learn more about Rodman Dam go to this site. 
Dr. Bob Knight's has studied Silver Springs since the 1970's. His Silver Springs restoration report can be seen here.