know your springshed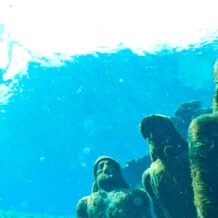 Silver Springs
Over the years, pollution in the form of high nitrates and low flows due to drought and over pumping of ground water have combined forces, resulting in an obvious decline in the health of Silver Springs and Silver River. This page from SJRWMD's website mentioned ground water withdrawals as being one of the reasons for low spring flows. " increased groundwater withdrawals can reduce the hydraulic pressure in an aquifer, causing water levels to decline and spring flows to decrease. "
In January 2013 the State agreed to take over Silver Springs and turn it into a Florida State Park . Read the Gainesville Sun article. 
For some more interesting reading, check out this article  – Treasure trove of artifacts found at Silver Springs.
Hopefully state leaders, environmental regulation agencies, businesses and citizens will combine efforts to return Silver Springs to a much healthier state. The brown algae clinging to the eel grass is an obvious indication of an unhealthy system.  Articles in local newspapers have been voicing the same concerns. Read the article here.
DEP recently issued a report stating nitrates need to be lowered by 79% in Silver springs to lower pollution to and return the systen to a healthy level. The details are on pages 62 and 63 of this report.
There is a lot of great information available in the TMDL Report: Ocklawaha Basin; Silver Springs, Silver Springs Group, and Upper Silver River. Follow this link and navigate to PAGE  9 FIGURE 1.7  to see the DEP Silver Springs springshed.
SJRWMD's map of the springshed is somewhat different. You can see it on page 4 of this report.